Sree Radha Gokulananda Ji Back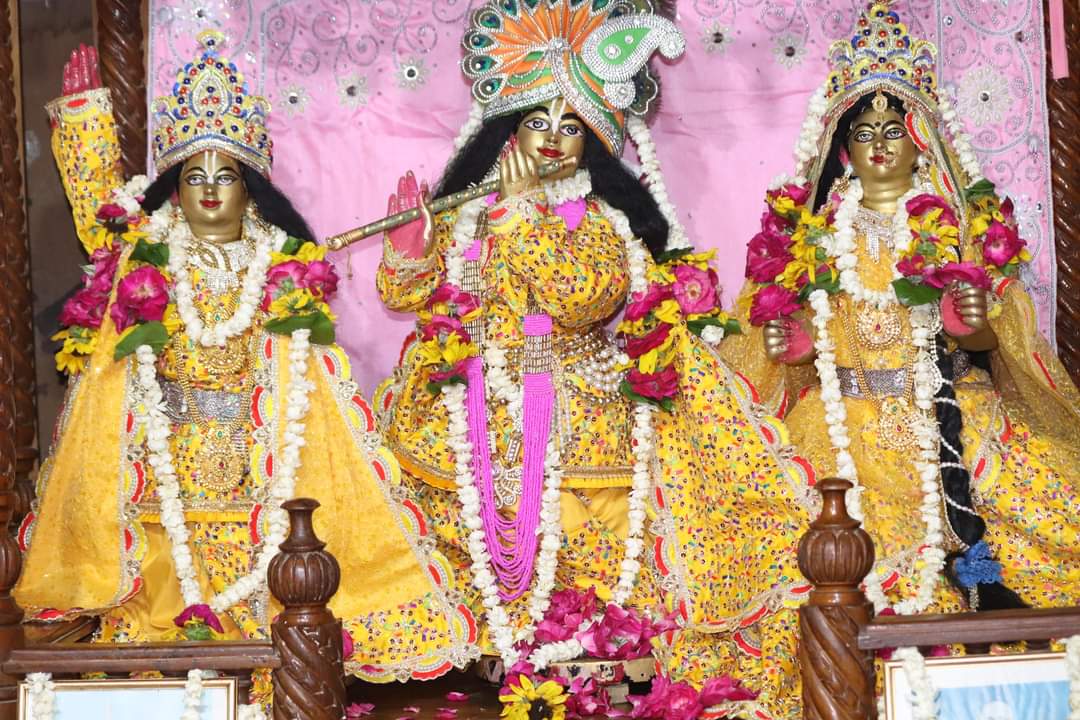 Their Lordships Sree Sree Radha Gokulananda ji made their appearence in Mumbai by the request of our most revered Gurudev Sri Srimad Bhakti Ballabh Tirtha Goswami Maharaja on Kartik poornima in the year 2006, in the midst of wonderful Sankirtan, led by the great personalities who have dedicated their life for the mission of Sree Chaitanya Mahaprabhu and thus the festival of welcoming deities (installation) took place. Sree Radha Gokulananda ji accepted the service from the devotees of Mumbai till 18th of August 2007 with great pleasure.
Later when the desire to remain in Sree Govardhan Dham which is the place of His eternal pastimes and heart of Sreemati Radhika, the heart and soul of Srila Gurudev Sree Sreemad Bhakti Ballabh Tirtha Goswami Maharaja, became very strong Their Lordships then travelled to Chak-kalan, Nakodar in Jalandhar distt, Punjab in 19th August 2007. Finally on 4th of September 2008 Sree Radha Gokulananda ji made their holy arrival in Sri Dham Govardhan where the devotees are naturally inclined to love Krishna and Krishna is naturally inclined to love them, making His own words come true "vrindavanam parityajya padam ekam na gachami" lord says I never go even one stay away from vrindavan.
Repeating the pastime of Sakshi Gopal travelled from Vrindavan to Vidyanagar for a young Brahmin and then to Sree Jagannath Puri Dham for Maharaja Sree Purusottam Dev due to their devotional attitude, similarly our Sree Sree Radha Gokulanand ji travelled all the way from Mumbai to Punjab and finally to Sri Dham Govardhan blessing His devotees.
Darshan of Sree Sree Radha Gokulananda ji Sri Vigraha Pratistha (Deity Installation)